Over the past year, while we have been waiting to collect our narrow boat we have been looking at marinas. We wanted something that was friendly, had enough facilities and was near enough to a town so that we can get supplies and go for the occasional meal out while we are working on her.
I have scoured the published lists of marinas. I made a list ones in the area we would like to be based at the start our narrowboat experience.
During the summer we had the opportunity to hire Chloe (Soon to be Floydtilla) for a week and decided we would head down to Droitwich and onto the river Severn and then into Worcester and back up the Worcester and Birmingham Canal to Stoke Prior. Not a very long adventure and we had plenty of time to stop and look about.
Droitwich Spa Marina
Our first stop was to look at the Droitwich Spa Marina, where we had a Covid safe look around. The place was well equipped with a slipway and machinery capable of pulling us out for blacking etc. There was also a small chandlery which luckily for us sold ice creams, they even had one for the dog (no a common thing for him).
We also liked the shower block and they even had a dog shower..  as well as a laundry room with washing machines and dryers.
The marina was mile or two from the town, which has a Waitrose and a very nice coffee and muffin shop, amongst other things,  to recommend it. We tried the food at the Eagle and Sun pub which is just a short walk away.
We decided we would put ourselves on the waiting list and see if a space became available.
Diglis Waterside & Marina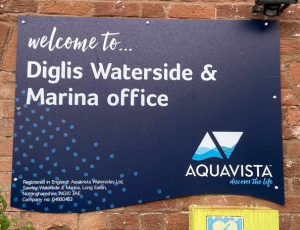 Next, we stopped in Worcester and had a look around the city, it looks a very nice place to visit, and at the junction with the river Severn was the Diglis Waterside & Marina which is part of the Aquavista group of marinas who have sites around the country.
This looked also very interesting as a base for our boat, unfortunately at the time the office was closed, but we had a good look around and liked was we saw. Our only concern was that noise may be an issue once we were post covid.
I emailed the contact details on the website to ask if there was any availability for 2021.
Hill Farm Marina
Earlier in the year, Sonia visited Hill Farm Marina on the Stratford-upon-Avon Canal which she was very impressed with and was put on our shortlist for 'not straightaway', a possible for future years.
A lot of the smaller marinas we contacted did not know if they would have spaces for next year. With the Covid-19 pandemic, owners did not know what would happen and may stay moored up through this period.
Our Selection
Just a few days after our visit to Droitwich Spa Marina we had a call with the potential offer of a space for 2021 which we decided to accept. This was one more thing ticked off my todo list for owning a canal boat. In December we sent completed the application form and sent a cheque for the deposit.
Edit: We finally heard from Diglis Waterside & Marina in October 2020. They had been having a problem with email/website and this delayed them answering. They expected to be fully booked for March 2021 so that did not matter, you never know, we may give them a try in the years to come.