We were all very excited as we set off from Somerset to go and pick up Floydtilla from the Black Prince base in Stoke Prior. We aimed to get there for around 11:30 am so the rush of the hire customers getting underway would mostly be over.
Inspection and payment
When we arrived at Stoke Prior we could see Floydtilla in her new bright paint work, and we parked up in the yard. We had had the roof painted yellow and in the bright sun it will probably need sunglasses while we get used to it.  Hopefully this will keep the roof cooler, as the normal Black Prince dark blue can become a little hot to the touch.
They were all ready for us so we had a tour around and an in depth explanation of what we needed to know as an owner not a hire customer.
We got presented with what will become the Bible for Floydtilla which was a folder with all the manuals for the Engine, Gearbox, Heater etc, as well as 37 pages of general information and diagrams of all the systems. This was a gold mine of information and covered all the questions I had in my notes and I am sure many more to come.
In one of the cupboards they had also included two spare engine belts an air filter, fuel filter and oil filter, it is the little extras that make life simple.
Next came the fun with the bank: We had transferred all the money into our current account ready to make payment and informed the bank what was going to happen. They said that we would probably have to call to make such a large transfer as it could trigger the anti fraud limits. Once we were happy, Sonia tried to call the bank. The message on the automated response  let us know that "they have a high level of traffic at the moment" we did start to wonder when they didn't! After 40 minutes hanging on we got to talk to a person and then a few minutes later we owned a boat.
Off to Droitwich Spa Marina
The Black Prince team had prepared everything, the diesel tank was full, all the beds made up, the boat had all it's equipment just as we had used it in the summer.
I checked the engine hours (11,588) and then we asked them to help us turn her around and we set off down the Worcester and Birmingham canal towards Droitwich Spa Marina. What a great feeling, it was all finally ours.
We had a lot to learn as we found out a few hours later once we arrived at the marina. We had never moored in a marina before, and while we tried to find our allocated space the weather rained, hailed and blew us about.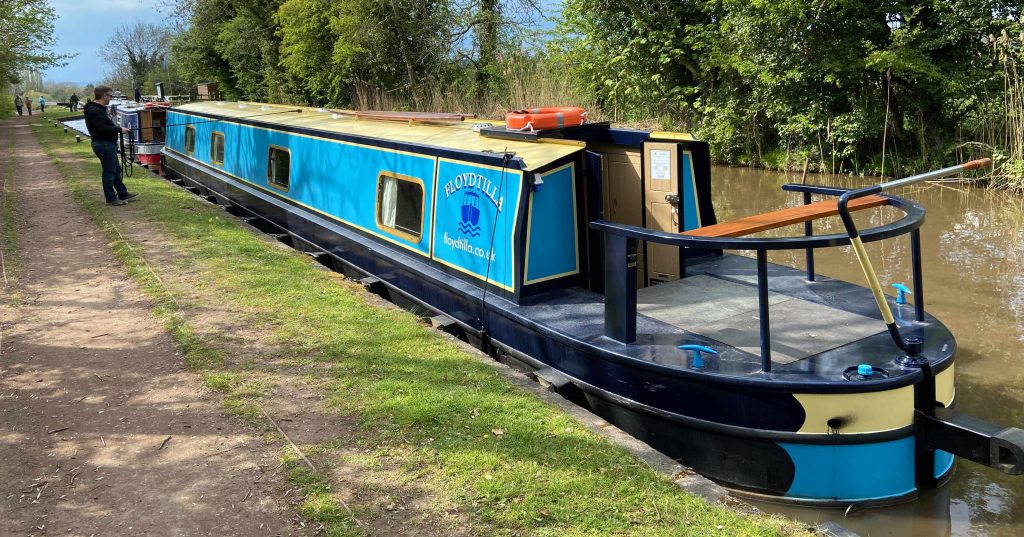 In a simple mistake we had been given the wrong berth number and when we found it, it was already in use, so we headed in to the next available berth. This took us many attempts and finally after a few four letter words we managed to get the bow in and finally tied up for the night. The office was now closed so we would sort out the correct berth in the morning.