In the social media I see lots of NB owners asking for recommendations for insurance, so being new to this I searched around in the magazines and via google for companies that I could try.
I was not looking for the cheapest insurance, but a company that made me feel  that I was going to be looked after if the worst thing happened and I needed to make a claim. I also wanted to know what I was being covered for, over the years we have spent a lot on insurance, sometimes to find that we where not as covered as we had hoped, while other times we had been pleasantly surprised how well things have been handled.
Mostly we take out insurance and have not had to use it, it just makes us legal and feel that our investment is protected.
The basic spec of our boat is as follows:-
| | |
| --- | --- |
| Boat Name | Floydtilla (was Chloe) |
| Builder | Probuild |
| Fit-Out | Black Prince |
| Year | 2007 (First Hired 2008) |
| Length | 62 ft |
| CRT  | 516812 |
| Engine | 42hp Diesel |
| Marina | Yes |
I am interested to see what different companies offer to differentiate themselves from the rest and we will see what tempts me the most.
NOTE: While every effort has been taken to keep this as accurate as possible it is not always possible to directly compare these quotes, I am just reporting what I understood from the research we did.
This was all done online over a few of days in March 2021 .
Mercia marine was recommended to us by Black Prince as this was the company they used, and whom we purchased the boat from.
Compared to many of the other sites I visited this one provided so much information, it looked a little text heavy and dated, but I would rather have more info than be left in the dark.
I completed the online form, which asked if I was to use the boat single handed, and as I suspect that may happen I answered yes, this then required a member of staff to review my quote before they sent it out.
When I got the email with the quote it was a little higher that expected at £308.52 pa. They provided a cost breakdown when I logged into the site
| | |
| --- | --- |
| QUADRANT COMPREHENSIVE COVER (£3m liability) | £246.07 |
| MARINE LEGAL PROTECTION (non-refundable, unless within 14 days) | £16.00 |
| INSURANCE PREMIUM TAX (at 12 %) | £31.45 |
| POLICY ADMIN FEE (non-refundable) | £15.00 |
| TOTAL | £308.52 |
I checked the nice "Boat Insurance Glossary" on their website and could find no mention of "MARINE LEGAL PROTECTION" or "QUADRANT COMPREHENSIVE COVER" who I assumed is the insurance company.
So I emailed back asking for more information and to see how flexible they are on their quote. The response a few days later basically was that the quote was the best they could do at present.
| | | |
| --- | --- | --- |
| Insurer | Quote | Excess |
| Mercia Marine Insurance | £308.52 annual | £150 |
This site had a very simple form to complete, almost no additional details asked before the quote was generated.
| | | |
| --- | --- | --- |
| Insurer | Quote | Excess |
| Insure4Boats | £13.46 p/m   £161.55 annual | £200 |
Cover was up to £3 million with an option to increase to £5 million with increased the premium to £16.30 p/m  or £195.55 annual.
Adding frost or freezing again increased this to £17.00 p/m  or £204.01 annual.
I did not click on the option for physical loss or damage caused by war, strikes, terrorism and associated risks as this, I hope, seems unlikely in the UK at the moment.
Next came an option to cover the contents with a max single item of £1000 and limits on portable electronic equipment, mobile phones and bicycles.
There was also a option to enter a value for the total contents, It is not clear  if this means  just personal items, and not fixtures and fitting, so I added £1000 and our final premium came to
| | | |
| --- | --- | --- |
| Insurer | Quote | Excess |
| InsuranceInsure4Boats | £17.99 p/m   £215.91 annual | £200 |
Before I left the site, I had the option to email myself the quote for later purchase.
I started with the first result on a google search for "narrowboat insurance" which just happened to be a comparison service/broker.
The website is nice and simple no real surprise question, this site does all sorts of boat insurance, but after selecting narrowboat the questions in most part seem appropriate.
After entering my details they came back with 5 quotes from 4 suppliers and noted that 13 providers were unable to quote.
A little bit of research on the site showed that prime was also MS Amlin.
Insurer
Quote
Excess

towergate insurance

£14.62 p/m   £156.91 annual

£100

£23.35 p/m   £249.31 annual

£300

geo/specialty (Pleasure Craft)

£25.48 p/m   £272.00 annual

£125

MS Amlin

£25.69 p/m   £274.23 annual

£150

MS Amlin




Promo Offer: Legal cover included as standard

£26.82 p/m   £286.23 annual

£150
All the results offered 'FULL' cover of between £3 and £5 million, the cheapest towergate insurance was significantly cheaper than the rest at this point, none of the others offered any additional items that could be used to differentiate themselves from the rest from what I could ascertain from the website.
After about 10 minutes of asking for the quotes, I had a call from a very pleasant  young lady who wanted to check I had everything I needed.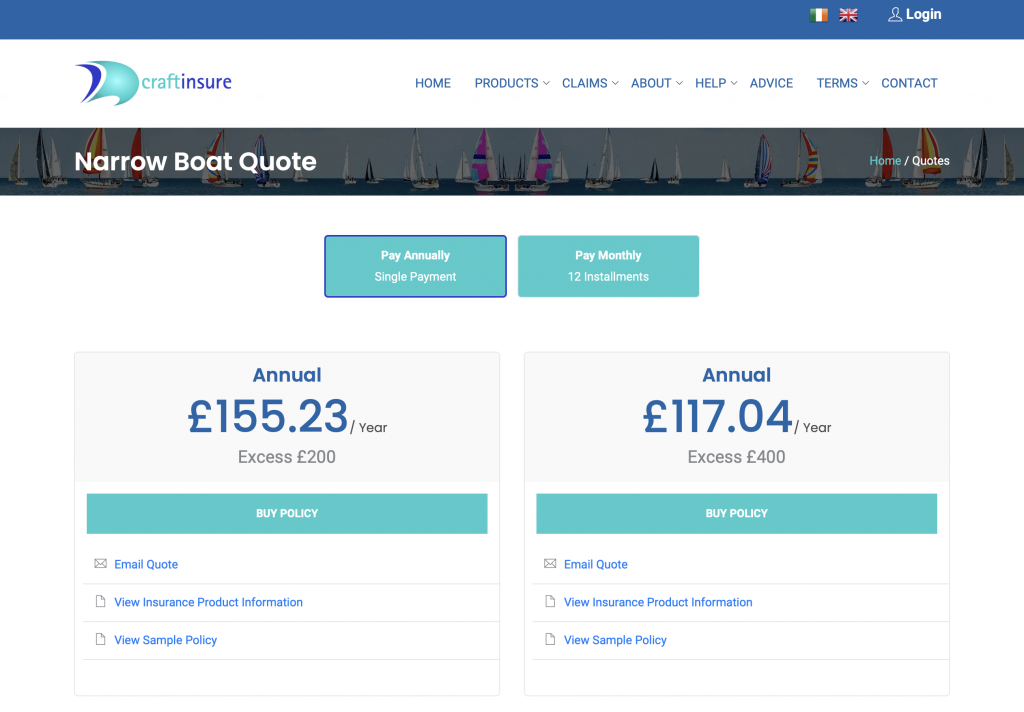 This site has one of the simplest quotation systems I have used, just four questions.
Boat Value?
Year of construction?
Claims in the last 3 years (0,1,2 3+)
Proof of no claims (Y/N)
You then have to Agree/disagree to a short agreement that covers things like boat construction (Fibreglass, Aluminium or Steel), that it for private use only and is not over 80ft long etc etc etc non of which seemed onerous.
I was then presented with two possible quotes with links to email the quote or to read sample documents.
This company I came across in Waterways World Annual 2021 as they had a full page advert.
I visited the website address and clicked on the link to Narrowboat insurance and  then the "Get a quote" button, and completed a simple online form. I expected to be asked a few more questions, but no, it seems they will contact me for more details…
A working day later, I got an email asking for lots more information none of it complicated, I am sure this could have been done as an online form when I sent in my initial request, but they did respond, and a few days later we got a package in the post.
The package was very comprehensive with lots of information, the quote was £223.78 for £50,000 Hull, Machinery, Gear and Equipment and £3m third party liability. We could add Marine Legal Protection cover as an option for an additional £13.72
I really liked the All Weather Insurance – Insurance Product Information Document as this outlined what was and was not covered by the policy so there should be no confusion.
| | | |
| --- | --- | --- |
| Insurer | Quote | Excess |
| MS Amlin Insurance SE | £223.78 Annual plus extra  £13.72 for MLP | £150 |
This is another insurance company I found in Waterways World, they have an interesting tag line "The UK's Largest Direct Boat Insurer". and from what I had seen in social media posts this was the one most often recommended.
The website seemed to ask appropriate questions for the owner of a narrow boat
The final quote included
£25,000 Legal cover
£5m Third Party Cover
£20,000 Personal Accident
River Canal Rescue
The River Canal Rescue is a good added benefit, and not one I had seen so far and covers
Nationwide breakdown assistance and recovery
24-hour practical and technical telephone assistance
Crisis coordination and message relay service
Homestart and provision pick-up service
Free WaterNav App for navigation
SOS app to keep you updated when you breakdown
You can read a pdf that explains the cover provided
Looking at the RCR website, this offer is about £65 in value and would be equivalent to the Retainer level of membership
Insurer
Quote
Excess

GJW Direct

£220.50 annual or
10 X £22.05 Payments

£100
This site had a comprehensive form that needed completion, they will then contact you via your selected preference with a quotation.
We will see what happens, I asked to be contacted by email.
In the post the next day I received a letter? from Newton Crum, which outlined the cover as follows
£5m Third Party Indemnity
£5000 Emergency (Dr/Surgeon/Hospital fees)
£47,500 Craft with its gear and equipment
£1000 for Personal effects
The annual prices offered all depended on the amount of the Excess you were willing to accept :-
For an additional £1.00 we could add £25,000 Marine Legal Protection that covers us for agreed legal & associated fees to enable the owner to pursue uninsured loss or injury.
Also for an additional £4.00 for Marina Benefit, which waives the basic excess when the craft is in its home marina berth.
The letter also included a sample policy and a check list to help compare with other quotes and finally a Quotation Acceptance Form to complete and a addressed envelope.
I liked this one, lots of information, but posted not emailed, but you cannot have everything and being posted I did read it all.
Completed yet another online form and we now wait for a quotation. a working day later, we get two emails from Westfield, the first one is for £ 172.70 which is followed 12 minutes later by a "Corrected " one for £ 208.58. While neither quote is out of the ball park and errors do happen, this does not inspire me with confidence. So we won't be taking this one any further at the moment.
| | | |
| --- | --- | --- |
| Insurer | Quote | Excess |
| Westfield | £ 208.58 annual | £125 |
Which one do we select and why
While none of the companies we used to get our quotes provided the perfect result, the ones I like best from reading their websites and the information they provided by post and email was Newton Crum Insurance , Mercia Marine insurance, GJW Direct and Haven Knox-Johnston.
I would be happy with any of these for our insurance, they all provided useful information, it now just comes down to personal choice.
Our final choice was Haven Knox-Johnston, but it was close between these four.